Baldwin Lake
San Bernadino National Forest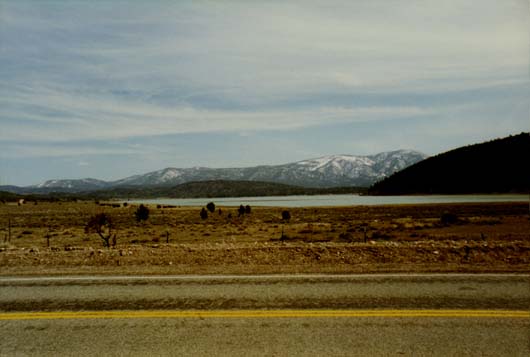 Baldwin Lake which was seen in seven's "The Other Son".
---
To see an enlargement, please click on the photo!
---
Baldwin Lake, some miles south of Big Bear Lake was where the opening of seven's "The Other Son" was filmed at in June 1965. The desert shots in "The Hanging Posse" were filmed just outside the dry lake.

DIRECTIONS (From Los Angeles): Take the 10 east to the Running Springs exit (junction of Hwy 30 and Hwy 330), and drive on Hwy 30 until you turn off onto Hwy 330, and proceed until you reach Hwy 18 and see the dam of the lake, and you are there.

(From the High Desert): Take Hwy 18 from Cajon Pass, along this route, will take you into the back side of Big Bear Lake, and Hwy 18 runs along the West side of the lake and Hwy 330 runs on the east side of the lake.

To see more photos, visit the Big Bear Lake Film Office!

Home | Locations | Opening Scenes | Forum | Cast Bios | Episode Guide | Links
Calendar | Bonanza Lyrics | Horse Bios | Gallery | eCards
Photographs and content copyright ©2000-2007 RM & Bonanza: Scenery of the Ponderosa, all rights reserved.