To see enlargements, please click on the photos!
In a dense forest of Jeffrey Pines, 20 miles south of Reno just off the U.S. 395 is Davis Creek Park, where portions of the 'Bonanza' TV-movie 'Bonanza: Under Attack' was filmed at in 1995. The campground and picnic area offers outstanding views of Washoe Lake and Slide Mountain as well as many recreational facilites. Individual sites surround a small scenic pond upon which no motorized boats are allowed. During the coldest months of the year, the pond freezes and makes a great ice skating area which is free to the public.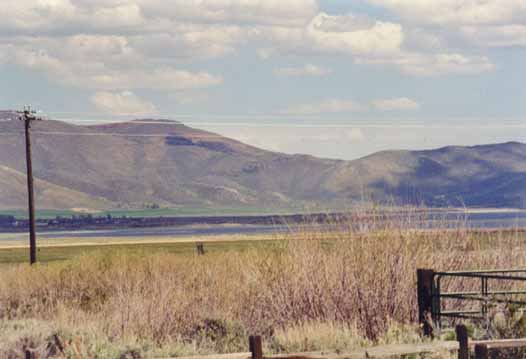 Nature trails are marked for a self-guided hike among the flora and fauna. Group hikes may be arranged to explore the surrounding Davis Creek environs by calling the Ranger.
High desert flora and fauna and tree-dotted foothills surround you
on all sides.
---
The park has 63 overnight campgrounds. Although there are no hook-ups, longer travel trailers can be accommodated at 19 sites. Group camping and picnic facilities are available by reservation; contact the park ranger for details. An equestrian trailhead provides access to the nearby Toiyabe National Forest.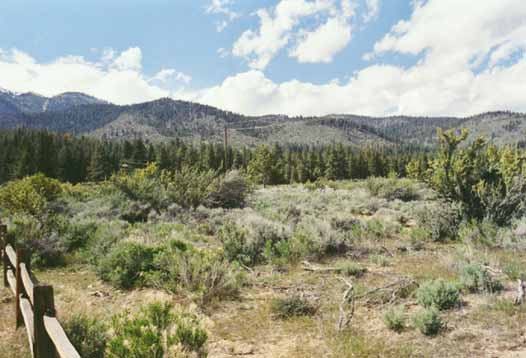 Portions of the 1995 television movie sequel 'Bonanza: Under Attack' were filmed here of that year.
---
Directions:
Star Route 1, P.O. Box 736
Carson City, Nevada 89704
Park ranger: (702) 849-0684
Home | Locations | Opening Scenes | Forum | Cast Bios | Episode Guide | Links
Calendar | Bonanza Lyrics | Horse Bios | Gallery | eCards
Photographs and content copyright ©2002 RM & Bonanza: Scenery of the Ponderosa,
all rights reserved.