Incline Village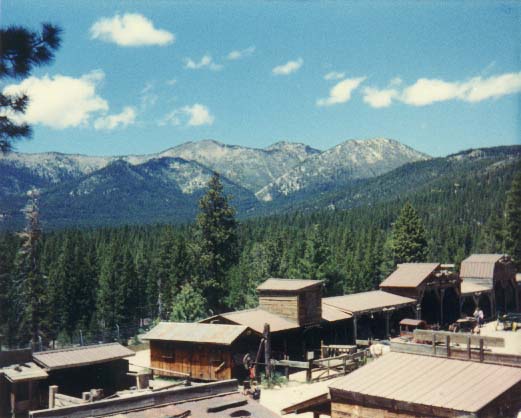 Incline Village is located on the Northeastern shore of Lake Tahoe, at an elevation of 6200 feet on the Carson Range of the Sierra Nevada in the Toiyabe National Forest. Bonanza was filmed here sporadically in its early years until the series gained more popularity and when New York realized its potential, more time was spent filming there from 1961 to 1968, every summer of those years. Later in the series' run, costs to travel there were too high and other locations in Southern California were used instead. The Central Sierra in California was used in Bonanza's final season in July and August of 1972.
Developer Bill Anderson, who worked in Crystal Bay threw in with NBC, with the idea of creating a replica of the Ponderosa in 1967 to let viewers know that this paradise on television existed in the real world. In summer of 1968 the Ponderosa Ranch was opened to promote tourism to the Lake Tahoe community and folks all over the world still flock there from every Memorial Day to little after Labor Day through October.
The amount of filming at Incline Village was only about 15%, compared to the main body of filming in California. Many still believe that every episode of Bonanza was made there, wrong! Stage 16 and 17 were where the Ponderosa Ranch sets were made and filming only took place in that set! In 1970, due to rising costs, the company moved from Stages 16 and 17 at Paramount to the Warner Brothers Studios. The entire house and all interior and exterior sets were all loaded on trucks and moved to Warner, in Burbank, Ca. The special bedroom sets were also moved as well, since the house never had any bedrooms, just a "prop" bedroom above Ben's study!

Click here for a map!

Visit Ponderosa Ranch Lake Tahoe!

Home | Locations | Opening Scenes | Forum | Cast Bios | Episode Guide | Links
Calendar | Bonanza Lyrics | Horse Bios | Gallery | eCards

Photographs and content copyright ©2000 RM & Bonanza: Scenery of the Ponderosa,
all rights reserved.