Lake Valley
South Lake Tahoe, California
Lake Valley seen from where I was staying on Highway 50, at South Lake Tahoe, on the California side, seen in "Bonanza: The Next Generation"-1988.
---
To see enlargements, please click on the photos!
---
The beautiful and lush grasses that form Lake Valley at South Lake Tahoe in California, is where portions of 1988's "Bonanza: The Next Generation", was made at. Located several miles from Stateline on Highway 50, and can also be viewed by driving south up Highway 89 above the lake.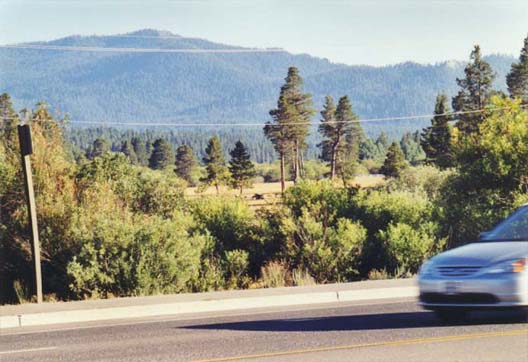 Closer shot of Lake Valley and crossing the highway at this time of the day was out of the question!
---
DIRECTIONS: From Incline Village, Nevada, if you are coming from Incline Village on the Nevada side of the lake, drive along SR 28, and when you get to the Spooner summit, make a right turn onto Highway 50. Driving along Highway 50, you will drive all the way past Stateline, onto the California side of Lake Tahoe. After several miles have elapsed, and right before you see the junction at SR 89, you will see the giant Lake Valley, with the Upper Truckee River gracefully flowing through it. You can view the valley from the sidewalks off the highway, but entry is forbidden, since the valley is managed by the Lake Tahoe Bureau of Land Management.

Home | Locations | Opening Scenes | Forum | Cast Bios | Episode Guide | Links
Calendar | Bonanza Lyrics | Horse Bios | Gallery | eCards
Copyright ©2001-2004 RM & Bonanza: Scenery of the Ponderosa, all rights reserved.