Red Rock Canyon
Mojave Desert, California
To see enlargements, please click on the photos!
Red Rock Canyon was selected for some of the desert shows on the series. It's located in the northern Mojave Desert about one hour outside the town on Route 14. Many movies, serials and TV series were filmed on location at Red Rock Canyon. Its filming history dates back to 1919.

Most of the filmed cuts in "Bonanza" were shot at the Natural Cliffs Preserve, which is on the right side of Route 14. The region on the left side of the roadway was also filmed in limited cuts for selected episodes of the series. Several "Bonanza" episodes were shot at Red Rock Canyon; "The Dark Gate", "The Gift", "The Wild One", "Ride the Wind", "Second Chance" and "Sense of Duty".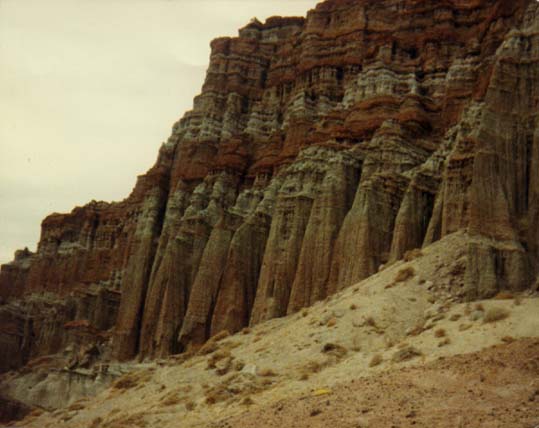 Natural Cliffs Preserve

To see an enlargement of the panorama, click on the photo above!
---
DIRECTIONS: Take I-5 North to the Antelope Valley Freeway-aka the 14 Freeway, all the way through Palmdale, Lancaster, and Mojave. In about 45 minutes, you will see the towering red cliffs on both side of Route 14. There are entrances to both sides at Red Rock Canyon for a safe entry, so the park can be explored and enjoyed.

To see more photos, please visit the Movie Making Locations Website!

Home | Locations | Opening Scenes | Forum | Cast Bios | Episode Guide | Links
Calendar | Bonanza Lyrics | Horse Bios | Gallery | eCards
Photographs and content copyright ©2000-2006 RM & Bonanza: Scenery of the Ponderosa, all rights reserved.