Rose Knob Peak
Toiyabe National Forest
Lake Tahoe, Nevada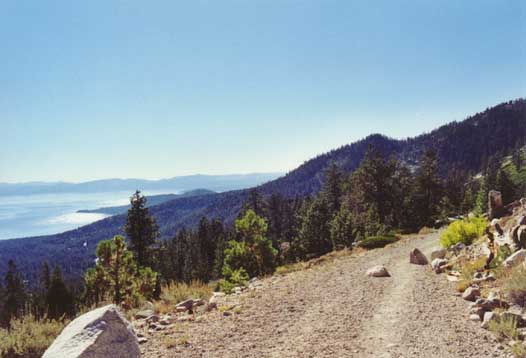 Overlooking spectacular Crystal Bay and Stateline Point where the highest portions of "Kingdom Of Fear" were filmed at in June of 1968.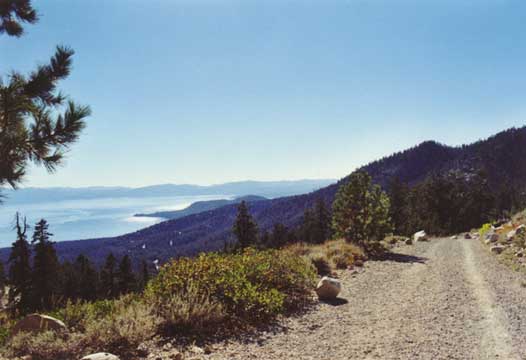 The service road that takes you to the filming site located off the Mount Rose Highway above Incline Village, Lake Tahoe, Nevada.
Walking along the service road on a warm day in October 2002. More inward view of the lower and lush slopes of Rose Knob Peak to the right.
A full wraparound shot of the filming site and what was not seen in camera view specifically the left side in the photo. The peninsulas of Skunk Harbor is on the left and Stateline Point is on the right.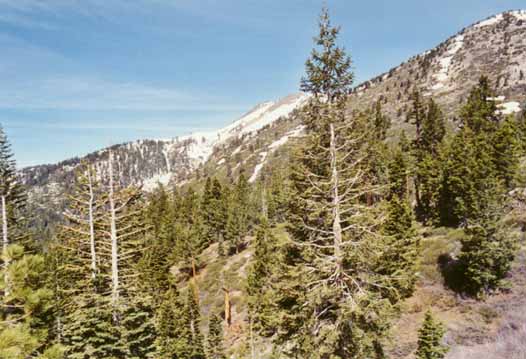 To see enlargements, please click on the photos!
Towering over the Mount Rose Highway at an elevation of 9,710 feet is the beautiful Rose Knob Peak, seen in many episodes of the series. In June of 1968, the only filmed episode in the history of the series to be filmed here was, "Kingdom Of Fear", shot right below the face of Rose Knob Peak on a dirt service road, while the meadow shots were once again filmed at Gooseneck Meadow in Martis Valley near Truckee, California.

The specific region is a wide overlook that offers a very unique view of Lake Tahoe's Crystal Bay and Stateline Point. In the story, the Judge's prisoners are toiling hard to get gold for him and the Cartwrights and Candy are amongst them. In one memorable scene Hoss lets an ore cart rush down the rails, and in another Joe escapes and scurries down the mountainside with the lake coming into view.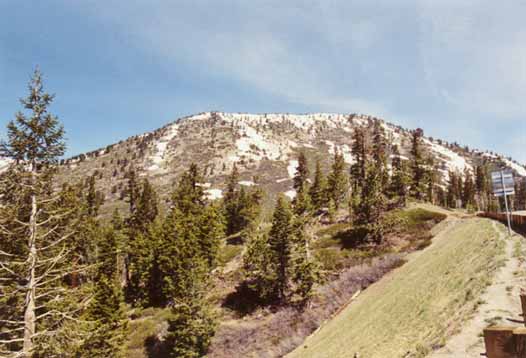 Rose Knob Peak, right below the face of mountain is the filming site for the highest portions of twelve's "Kingdom Of Fear", made originally the tenth year of the series and delayed until April 4, 1971.
Home | Locations | Opening Scenes | Forum | Cast Bios | Episode Guide | Links
Calendar | Bonanza Lyrics | Horse Bios | Gallery | eCards
Copyright ©2000-2006 RM & Bonanza: Scenery of the Ponderosa,
all rights reserved.