Brown's Meadow
Stanislaus National Forest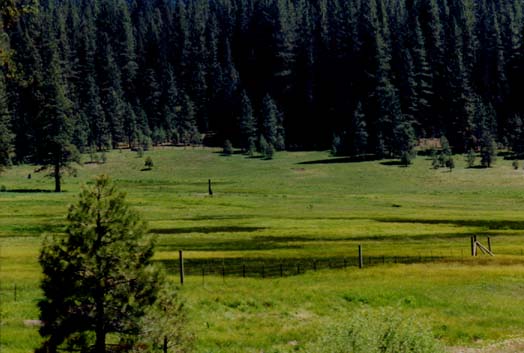 "Forever" and "Stallion"
To see enlargements, please click on the photos!
Brown's Meadow and N. Fork Tuolumne River, a few miles downstream.
Brown's Meadow was selected by Michael Landon for the Ponderosa exteriors seen in "Forever" ( 1972 ). Numerous scenes of the lush, sub-alpine flat were filmed for the feature-length episode in July of 1972. It's nestled in the Sierra Nevada mountains in California. A month later, the cast and crew returned on August 28th, to film selected cuts for the "Stallion" episode. Stock footage was filmed for other episodes down the stretch, too. The ride-up shots of the cast were filmed for the series' main title and cast credits for the 1972-73 season.

The meadow is 4,800 feet in elevation. The North Fork of the Tuolumne River gently winds through the flat and wanders into a draw, and upstream into a rear meadow. The old line shacks from the 19th century are still intact. The meadow is private property that's situated in the Stanislaus National Forest. No one is allowed to enter this property without first obtaining legal permission.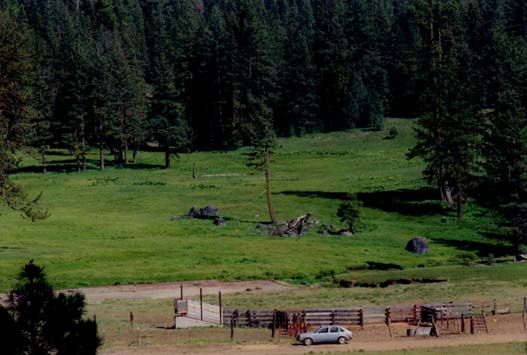 Brown's Meadow, from Service Road.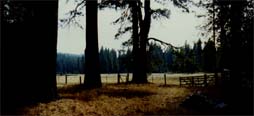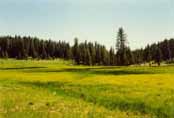 Click Here for "Stallion" Captures

Brown's Meadow Page 2


Home | Locations | Opening Scenes | Forum | Cast Bios | Episode Guide | Links
Calendar | Bonanza Lyrics | Horse Bios | Gallery | eCards
Photographs and content copyright ©2000-2015 RM & Bonanza: Scenery of the Ponderosa, all rights reserved.