Sand Harbor
Lake Tahoe-Nevada State Park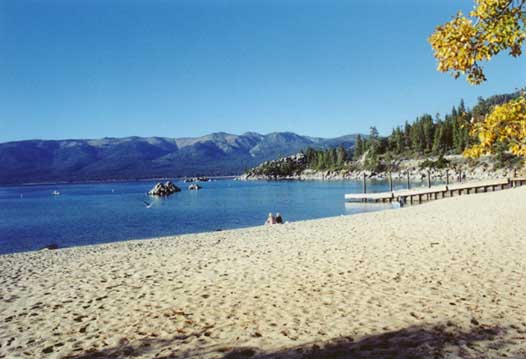 Beautiful Sand Harbor in October 2002.
The beautiful Sand Harbor which is near Incline Village was memorably featured on the series in the form of stock footage filmed and used throughout the middle years of the series. The first filmed footage was filmed in July 1959 and again in June of 1961. Memorable scenes such as in "The Stranger", "The Ape", "The Courtship", "The Countess", and "The Frenchman" from the first three years would be optically superimposed with the actors doing their scenes on the soundstage at Paramount Pictures for the final print for airing on NBC. Live-action stock footage would also be filmed of the cast for editing in with many episodes in the series, mainly in the early to middle years of Bonanza. One memorable scene filmed at Sand Harbor was for "The Storm" ( 1962 ). Joe's lady love has died and he's standing at the shore grieving over her demise. He then rides out and goes back to the ranch. Riding shots of the cast and stuntmen were filmed in July of 1959. This would serve as stock footage over the first two seasons.

In June of 1961, the cast and crew arrived to shoot more segments and stock footage. The newly filmed riding shots match the cast's look and costumes. In June of 1962, the cast and crew returned to film new riding shots and stock footage once again. This is all part of making an outdoor series like "Bonanza" look right.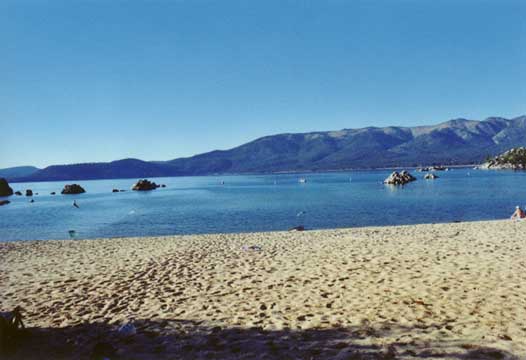 Looking across the lake towards Crystal Bay and Stateline Point.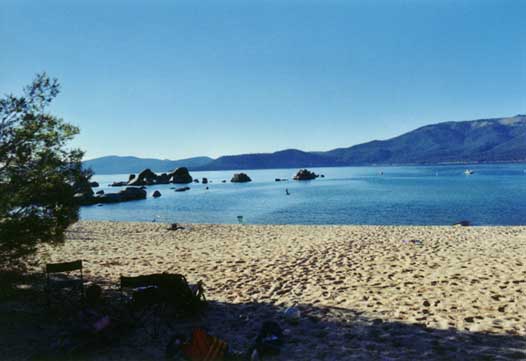 The beach free of summer tourists!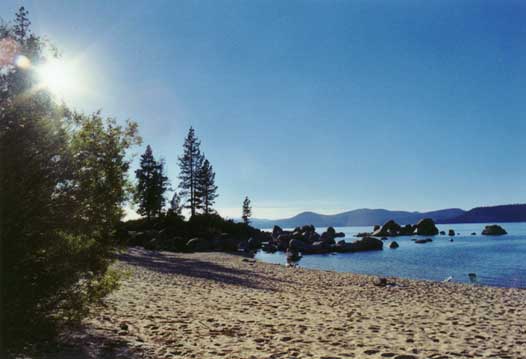 Sunset at Sand Harbor.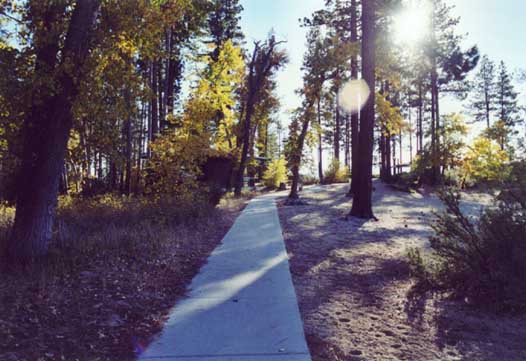 The walking path that takes you to both sides of Sand Harbor.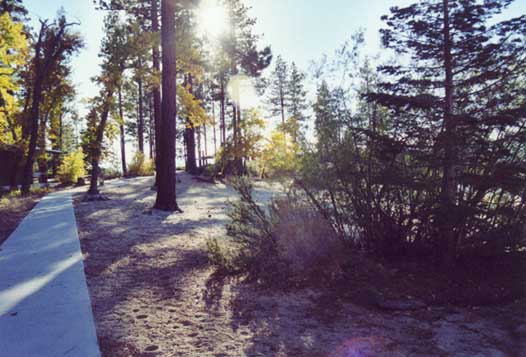 Last shot of the trip in October.
To see enlargements, please click on the photos!
---
DIRECTIONS (From South Lake Tahoe): Take Hwy 50, east along the south shore and proceed until you get over on Nevada Route 28, and a few miles after you pass Spooner Lake, you will see these large formations along the shore that grace the northeastern shore, almost to Incline Village.

Click Here for Crystal Bay and Brockway Summit Photos!


Home | Locations | Opening Scenes | Forum | Cast Bios | Episode Guide | Links
Calendar | Bonanza Lyrics | Horse Bios | Gallery | eCards
Photographs and content copyright ©2000-2018 RM & Bonanza: Scenery of the
Ponderosa, all rights reserved.