Ponderosa Wagon Camp
Incline Village, Lake Tahoe, Nevada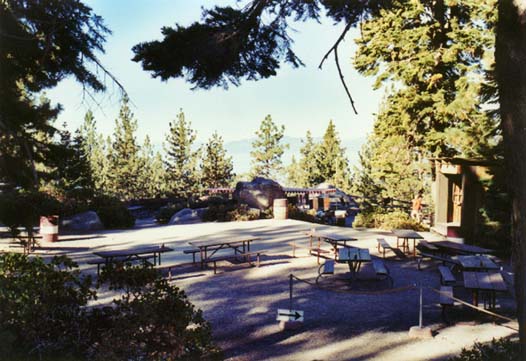 This is the breakfast grounds of the Wagon Camp area, ready and waiting for hungry fans and tourists alike.

The Wagon Camp is 1200 feet above the main grounds of the Ponderosa Ranch, at 7400 feet, and is open from Memorial Day in May, to Labor Day in September, of every year. The rides start at 8:00 AM through 9:30 AM, and the motorized wagons take the fans and tourists up to a small overlook, where the Wagon Camp breakfast grounds are at, and a small petting zoo, with billy goats, to greet visitors. The overlook is a small area, with some large granite boulders, with a walking trail, overlooking Crystal Bay and Stateline Point.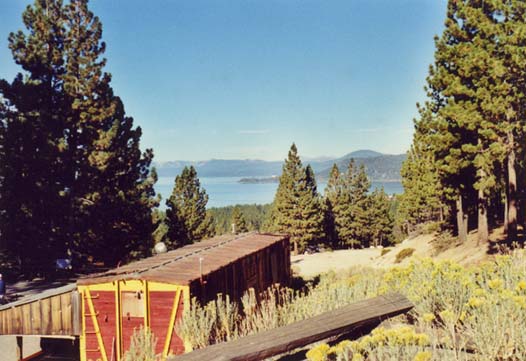 A view of the lake from the upper road that the powered wagons take the fans and tourists up, to the breakfast grounds.

Portions of the episode, "Salute To Yesterday", were made here in June of 1968, at the overlook, where Ben, Joe, Hoss, Candy, and the army detail are taking refuge from Mexican bandits, throughout the episode's storyline. Some other filmed scenes that were made here, were for the Bonanza TV-movies, and Dortort erected the Cartwright cemetery, at this small overlook for his televised features seen on NBC television; Bonanza: The Next Generation (1988), Bonanza: The Return (1993), and Bonanza: Under Attack (1995).

The cemetery grounds were moved up to this area for filming, and afterwards were moved back to the main grounds, across from the ranch and barn, where the wagon ride lets you off, after you eat breakfast. There is a walking trail you can also take down to the main grounds, but it is very steep, and not recommended for those who are not in shape for it. No reservations are necessary for the wagon rides, and cost two dollars more, plus park admission, which is a total of $12.50 per person.

For decades, over 250,000 tourists visited the park and museum, also known as "The Anderson Tour Trap." In the early 2000's, the business was slowing down quite a bit, and in 2004, the property was purchased by a Silicon Valley businessman named David Duffield. The last day the ranch was open to the public was September 26, 2004. There are no plans to reopen the park into the forseeable future.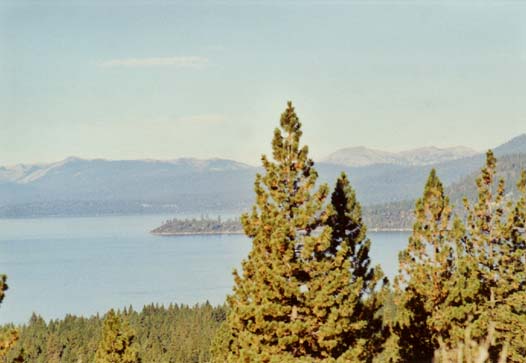 A view of Crystal Bay and Stateline Point from "the end of the road".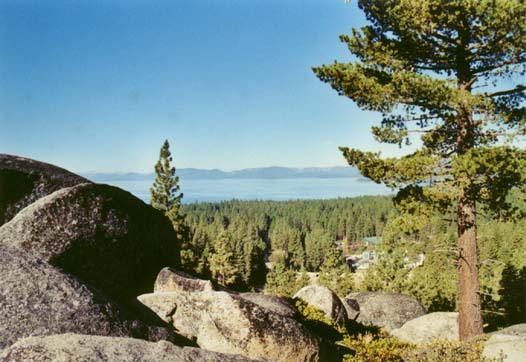 Along the walking path, looking at Crystal Bay.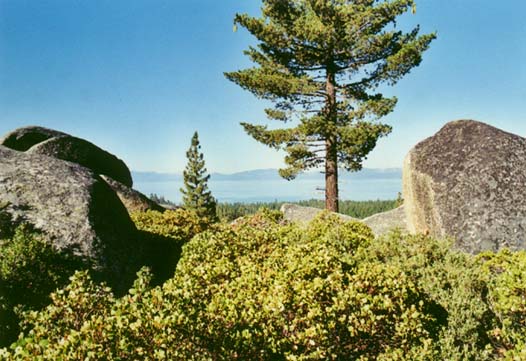 This area along the walk path, was where the Cartwright Cemetery was erected for the Bonanza television movies in the 1980's and 1990's.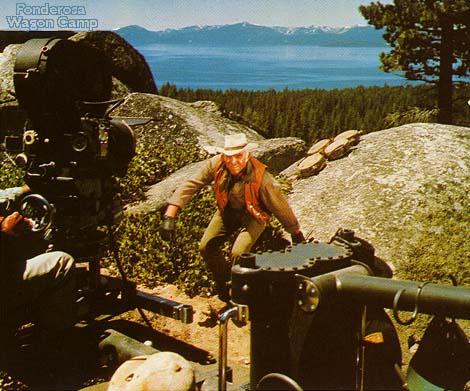 To see enlargements, please click on the photos above!


Visit the Ponderosa Ranch Lake Tahoe!

Home | Locations | Opening Scenes | Forum | Cast Bios | Episode Guide | Links
Calendar | Bonanza Lyrics | Horse Bios | Gallery | eCards
Photographs and content copyright ©2000-2008 RM & Bonanza: Scenery of the
Ponderosa, all rights reserved.