Breaking Bonanza News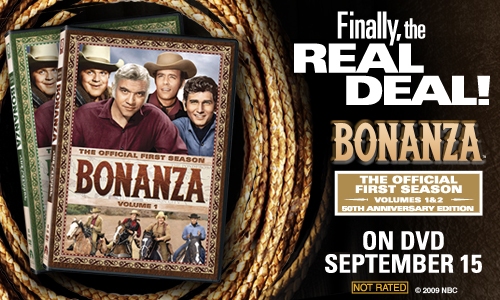 Very sad news...David Canary has passed away
New York, November 25, 2015 -- Like so many, I was shocked and stunned by the very sad news about David Canary revealed yesterday. Alzheimer's disease is a terrible scourge!

David and I were last in touch in 2010 when we lost David Dortort. (It was a nice, but sad, conversation.) David had been ill for some time. An early clue perhaps was the fact that David's wife Maureen replied to decline David's invitation to the 2009 BONANZA convention at Tahoe. (Prior to that, David always replied directly.) We tried to get him to attend BONANZA gatherings (starting with the 40th anniversary in 1999), and he would've come but for scheduling conflicts, mostly due to "All My Children." I recall one year he had accepted and was all set to go, but his father (who was over 90 at the time) took a tumble and he wrote he had to stay to care for him.

No one, to my knowledge, ever said a negative thing about him. (And I've spoken to many, many people who knew and worked with him.) He was a wonderful, kind, considerate and decent person. From the moment I first met him (backstage, after a performance of "The Cherry Orchard" in New York City, accompanied by Jill and George Wells), David was charming and captivating.

David was one of the very nicest people I ever knew. He was always gracious and friendly whenever I would see him at a personal appearance or play in the New York/Connecticut area. He gave me his private phone number in his dressing room at ABC and urged me to call him anytime I needed anything. Indeed, he was always willing to do anything I asked re. merchandising and licensing. (I was usually able to get relatives of his fellow "Cartwrights" to do things as well, but it was never as easy as with David. David Dortort and I chuckled about that.)

After the tragic loss of Dan blocker in the spring of 1972, producers David Dortort and Richard Collins met with Lorne Greene and Michael Landon. Their first decision was to invite David Canary to return to the show. (David had left just prior to the beginning of the 1970–71 season, because of miscommunications and a salary dispute.) Michael Landon called David personally to ask him to return. When a family loses one of its members, it's natural to close rank and pull surviving members together. David was without doubt, an integral member of the BONANZA family.

Years later, after the tragic loss of Michael Landon in 1991, David, in the midst of a full "All My Children" taping schedule, unhesitatingly accommodated Kent McCray's request to contribute to his memorial tribute, "Michael Landon: Memories With Laughter & Love." Kent and Haskell "Buzzy" Boggs took a small crew to Wilton, CT, and filmed David on a Saturday in his backyard.

In 2000, David donned his "Candy" costume (which still fit) and again worked with a crew in his backyard, filming anecdote-filled segments for PAX-TV's inaugural BONANZA Extravaganza.

As too often happens, I discovered after the fact several years ago that David had been interviewed for the Television Academy's oral history project. The interviewer's skills were mediocre and it was painfully obvious that she was something of a gushing soap opera fan and cared little for David's career besides "All My Children." David took her shortcomings in stride; he was his usual good-natured self, but it was a missed opportunity to discuss his career in greater depth, especially of course, his BONANZA years.

We are losing too many old friends and heroes from our youth. At least we have the memories, and in David's case, hours of wonderful performances preserved on film (or tape) forever.

I urge David Canary's many admirers to follow his family's advice and donate in his name to the Alzheimer's Association at alz.org -- "David Canary Memorial Fund."

-- ANDY KLYDE



Special DVD Message from Andy:
Boosting BONANZA
ANDY KLYDE: Impt. Info. re. BONANZA Season 2 vol 1

I'd like to thank all of you who have supported my efforts to get the second season of BONANZA (loaded with great extras) out on DVD in North America. I know it's been a bit of a wait, but I hope you'll agree it was worth waiting for.

There's more good news: Vol. 2 will be out come Springtime if vol. 1 sales are good. I know that comparison may not seem fair to some of you because cheap copies of many second season shows are available from bootleggers (albeit in sub-par quality and without original music), but we have to do the best we can with the cards we've been dealt. And if season two does well, season three -- "brought to you by Chevrolet" -- won't be far behind.

So now I'd like your help. Since unfortunately there's no budget to promote the show properly, I'd like YOU to help me boost BONANZA The Official Second Season vol. 1. -- not just by buying (although that would be a great help), but by leaving positive posts on AMAZON, Facebook, the fan tribute sites, writing e-mails to stores, going to stores, talking to store managers and requesting that the store stock the set (if it doesn't already), that sort of thing.

If you're interested, e-mail me and I'll give you more details about how you can help.

Happy holidays and Best BONANZA wishes,

ANDY

email: AJKLYDE@yahoo.com

Breaking Bonanza News
With great regret I report the passing of Bill Wistrom, MPSE, in Los Angeles on March 10, 2010. Bill was Post Production Supervisor on BONANZA from its inception to cancellation, and oversaw postproduction for THE HIGH CHAPARRAL as well. He began his career in the Sound Department at Paramount Studios in 1953 while he was still a university student and retired after Paramount canceled "Star Trek: Enterprise" in 2005. Bill worked on all the post-original "Star Trek" series, and he commented that Rick Berman, Executive Producer of all the Trek series that followed the original, reminded him of David Dortort. Wistrom earned 15 Emmy Award nominations and won six. In 2008, the MPSE (Motion Picture Sound Editors) honored Wistrom with its Career Achievement Award in recognition of his outstanding accomplishments over the course of his six-decade career. (See the account towards the bottom of the page at this link for more details):

http://www.mpse.org/goldenreels/2008awards/2008nominees.html

Additionally it saddens me to report that Vince Gutierrez, a multiple Emmy Award winning sound editor, passed away in Indio, CA on March 6, 2010. He worked in the sound departments for BONANZA and THE HIGH CHAPARRAL, and was among the BONANZA alumni recruited for Michael Landon's post-BONANZA projects, serving as Supervising Sound editor for "Little House on the Prairie," "The Loneliest Runner," "Highway to Heaven" and "Us." He also wrote numerous episodes of Michael's series. (See this link for more details):

http://www.emmys.org/news/2010/sound-editor-and-longtime-television-academy-leader-vince-gutierrez-passes

-- ANDY KLYDE


August 3, 2009
At the invitation of Chuck Greene (son of Lorne Greene) and the Incline Village & Crystal Bay Historical Society, BONANZA authority Andy Klyde will be giving a lecture about the classic series and its beloved cast in honor of BONANZA's 50th anniversary at the Washoe County Public Library in Incline Village, Nevada, at 4:00 PM on Thursday, September 10, 2009. An archivist and historian, Klyde is also an attorney for Bonanza Ventures, and Executive Producer of the forthcoming DVD release -- BONANZA: The Official First Season. Following the lecture, conventioneers will have ample time to return to the Horizon Casino Resort in Stateline to attend the first BONANZA episode screenings of the evening at 7:00 PM.

Also as part of the 50th anniversary celebration, on Sunday, September 20, 2009, the Autry National Center of the American West will present BONANZA Day. The Autry National Center is located in Griffith Park, Los Angeles. Telephone 323.667.2000, http://www.autrynationalcenter.org. BONANZA Day hours are from 11AM to 5PM. Admission to museum members is free, and non-member museum admission includes all the activities and festivities of BONANZA Day as well as all other museum attractions.

David Dortort, Wendy and Fred Dortort (his children), Kent and Susan McCray, and Andy Klyde will be on hand. Highlights of the day will include showings of episodes of BONANZA and THE HIGH CHAPARRAL, presentations by Autry staff members, viewing and discussion of select materials from the Dortort Archive, a panel discussion with principals from the show's production, opportunities to briefly meet personally with David Dortort, and a reception with light refreshment. The museum store will feature the newly-released BONANZA DVD set and other items of memorabilia.


Bonanza Ventures Press Release - 3/16/09
Bonanza Ventures announces plans to Commemorate the 50th Anniversary of BONANZA with the introduction of "Little Joe's Horse Cochise" by Breyer Animal Creations

New York, NY March 16th - September 2009 marks the 50th Anniversary of the legendary western television series, BONANZA. To recognize this occasion, Bonanza Ventures Attorney Andrew J. Klyde has announced the release of "Little Joe's Horse Cochise" in conjunction with Breyer Animal Creations.

Breyer Animal Creations has been making fine model horses since 1950. "I wanted the best quality for official BONANZA products," said Klyde. "The people at Breyer wanted to offer a very recognizable, distinguished horse first, and I thought that Cochise certainly fit the bill."

Making sure that the final product was accurate was very important to Klyde. "I sent Breyer many photos and a couple of screen captures (made by fans), including some of the horse without a saddle, to give the artist the best possible views of the original Cochise," he said. "I had an opportunity to view the model after it was painted but before it was finalized and give my comments. I think the artist did a great job."

Many fans have already inquired as to if and when the other Cartwright horses (and possibly their riders) would be released. "If the sales numbers for Cochise are good, look for his stablemates!" said Klyde. "Breyer is willing to develop more products, so support Cochise!"

Interested buyers can find "Little Joe's Horse Cochise" for purchase at the official Breyer website, www.breyerhorses.com. Tractor Supply Company, the largest retail farm and ranch chain in the United States, will also be carrying "Little Joe's Horse Cochise" soon. Buyers can visit their website, www.tractorsupply.com for further information.


Sad News
January 15, 2009, Andy Klyde writes: Very sad news about BONANZA alumni Ricardo Montalban. We never met but I've only heard good things about him from people who knew or worked with him.

His Nosotros Foundation, and his numerous magnificent performances on screen and the stage, make for a most rich legacy which will surely ensure his immortality.

My late friend writer-producer Tommy Thompson remembered, during production of "Day of Reckoning," that every time just before the director would call "Action," Montalban would suddenly scream "YEEACH, AAACH, YEEEAAACH"! He was clearing his throat. "He was a very nice man," Tommy told me.


BONANZA on "The O'Reilly Factor"
Interesting news, people -- "The O'Reilly Factor" on the Fox News Channel has a segment entitled "TV Icons" from time to time, and tomorrow night's show (Friday, April 18, 2008, 8 pm Eastern, repeat at 11 pm Eastern) will feature "BONANZA." Yours truly will be a part of the segment (and it's non-political). Hope you get a chance to watch. The host is a big BONANZA fan.

Best BONANZA wishes, ANDY KLYDE


IN MEMORIAM
It is with deep regret and sorrow that I have to report the passing of Alex Sharp in Los Angeles on Thursday, March 6, 2008. He had suffered from heart and stroke-related ailments in recent months.

A veteran of World War II who served in the last Cavalry Unit and saw action in the South Pacific, Alex was a tremendous athlete, a quality that served him well during his fifty years in Hollywood. He was a founding and lifetime member of the Stuntmen's Association of Motion Pictures, but it was his outstanding writing skills that endeared him most to BONANZA and THE HIGH CHAPARRAL enthusiasts. Alex authored some of the most beloved and fondly remembered episodes, including "Hound Dog," "Old Sheba" (directed by his long-time friend and golfing buddy, John Florea), "The Hayburner" and "The Covey."

A man of limitless energy and enthusiasm, and one of the all-time great raconteurs, Alex will be missed by his legion of fans whom he regaled with his tales at BONANZA and THE HIGH CHAPARRAL conventions.

Alex is survived by his devoted wife Kiyo and daughter Charisse Glenn, and son Bobo. On Saturday, March 29, 2008, his family and friends gathered at the Sportsman's Lodge in Studio City to recall and celebrate his life. It was quite a party, and Alex would've loved it.

ANDY KLYDE, for Bonanza Ventures, Inc.
For further information: AJKLYDE@yahoo. com


Bonanza Antiques Roadshow
The Antiques Roadshow featured an appraisal of a collection of BONANZA photos recently. I'm sure Ponderosa Scenery readers would like to know all the details. Here's a link:

http://www.pbs.org/wgbh/roadshow/archive/200702A39.html
These photos have a rather distinctive history; taken by renowned NBC photographer Elmer Holloway (at least the individual portraits) in early 1961, they were available to subscribing members of the "Bonanza Booster Club," an NBC organization concocted to drum up interest in the series in the early days. When the ratings indicated that that was no longer necessary (by the end of the third season), the "club" disbanded. Individual photos I believe were sold for $.25, and the complete photo package cost $1.00 (!). "Boosters" received their group photo personalized by an anonymous NBC staffer (who worked with our beloved "Madam of the Ponderosa, Joan Sherman Markowitz, author of Booster Club newsletters using her "nom de plume," "Dan King, club president"). The guys signed a bunch of the group shots, and did indeed inscribe as well as autograph their portraits.

Wendy Dortort Czarnecki had her rare 5-photo set on display at her father David Dortort's 90th Birthday Celebration at the University of Judaism in 2006. (But they weren't signed!)

Best "BONANZA" wishes, ANDY KLYDE


Rose Dortort Announcement
It is with deep regret and sorrow that I have to report that Rose Seldin Dortort, beloved wife and partner of David Dortort, passed away peacefully in her bed at home during the early hours of Sunday, September 30, 2007. As her health had declined significantly over the last several months, her passing was inevitable, but still unexpected.

Born 92 years ago in New York City, Rose celebrated the 67th anniversary of her marriage to David on September 1st. Her loving husband and children, Wendy and Fred, survive her. Legions of fans, who were fortunate to meet and get to know Rose at various gatherings in tribute to BONANZA, THE HIGH CHAPARRAL and THE PONDEROSA, shall miss her charm, grace, good humor and steadfast devotion to her husband and the legendary television programs that are his legacies.

A service will be held at Mount Sinai Memorial Park, 5950 Forest Lawn Drive in Hollywood Hills, (800-600-0076), at 2 p.m. on Sunday, October 7th, 2007, and expressions of sympathy may be sent to the family at the home of David Dortort, 947 Tiverton Drive, Apt. 1460, Los Angeles, California, 90024

ANDY KLYDE, for Bonanza Ventures, Inc.

Bonanza and The High Chaparral DVD News
by Andrew J. Klyde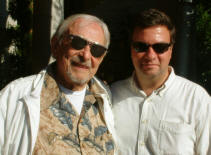 Photo of David Dortort and Andy Klyde by Charlotte Lehan;
photo and text courtesy of www.THEHIGHCHAPARRAL.com.

First, a little corporate history: in 1973, after the Federal Communications Commission (FCC) barred television networks from participating in the syndication of their own shows, National Telefilm Associates (NTA) purchased the NBC library of television programs. In 1986, NTA changed its name to Republic Pictures Corporation (aka Republic Entertainment). (NTA had achieved such great success with its purchase of Republic Studios library of films that it later bought the Republic name and logo; that is why BONANZA and THE HIGH CHAPARRAL episodes have the Republic eagle tacked onto their end credits). Aaron Spellings Spelling Entertainment Group (which included WorldVision Enterprises, spun off from ABC Films in 1971 to syndicate ABC-owned shows) later purchased Republic, and in 1999 Spelling/Republic merged with Viacom (created originally in 1971 to distribute CBS-owned shows; in 1984 Viacom merged with Paramount Communications, and in 2000 Viacom merged, ironically, with CBS). Now BONANZA and HC episodes have the Paramount mountain logo following the end credits. (Excised, sadly, from BONANZA prints is the trickling coins watercolor proclaiming an NBC Television Network Production.)

At a recent meeting with executives from NBC Universal, I discussed the status of THE HIGH CHAPARRAL and BONANZA and the possibilities of their imminent release on DVD. With regard to HC, NBC has certain obligations it must meet vis à vie worldwide distribution of the series. At present, CBS Paramount International is responsible for distribution outside the U.S. The executives promised to report back to me after they determine what Paramount has done, distribution-wise, which will determine whether Paramount will continue to distribute the series (both in television syndication and on home video/DVD), whether NBC Universal will take over the series, or another entity chosen by Bonanza Ventures. As soon as the executives make their report, we will have a better idea of when the process of making HC available on DVD will begin. I emphasize it is a question of when, not if, episodes will appear on DVD.

Regarding BONANZA, it is also a question of "when" and a matter of communication and coordination between NBC Universal executives, executives at Paramount Home Entertainment, and CBS. Early in 2006 Viacom completed its split into separate CBS and Viacom companies, and as a result, oversight of the pre-1973 NBC library which includes BONANZA passed to CBS from Paramount. Paramount Home Entertainment is now just the home video distributor of the NBC library. CBS has expressed interest recently in releasing BONANZA on DVD in North America (with rights to distribution in other territories, like Germany, having been sub-licensed by Paramount to a European distribution company; BVI is a profit participant in this deal, but did not specifically authorize it).

It is my hope and wish to have maximum input into the selection of episodes for these DVD releases, as well as the content of "extras," which I feel must also be included in season sets.

---
Words from Rick: CBS Corporation at the moment is now the distributor of the BONANZA and THE HIGH CHAPARRAL film libraries. A possible plan is to release BONANZA episodes out of sequence -- season three first and earlier episodes that have fallen into the public domain later, all with bonus materials.

Home | Locations | Opening Scenes | Forum | Cast Bios | Episode Guide | Links
Calendar | Bonanza Lyrics | Horse Bios | Gallery | eCards
Photographs and content copyright ©2000-2010 RM & Bonanza: Scenery of the
Ponderosa, all rights reserved.