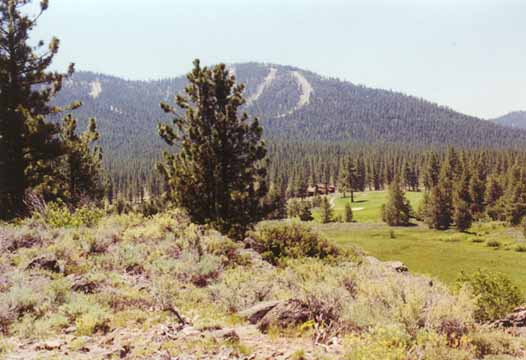 The lush and beautiful Gooseneck Meadow, featured exclusively in "Salute To Yesterday", "Kingdom Of Fear", "Desperate Passage", "The First Born", "The Artist", and in many other episodes in the form of stock footage in the series' run from 1962 to 1968.

The most photographed location in the Tahoe-Truckee region seen on the series is Gooseneck Meadow. At an elevation of 6000 feet, the lush meadow is fed by Martis Creek and it's forested knolls are dotted with mountain pines, sagebrush and wildflowers. There are adjacent meadows that run off the sides of Gooseneck Meadow that were also filmed for other filmed scenes on the show, a very diverse filming location in all respects. In some filmed shots the mountains and granite peaks above the floor of Martis Valley can be seen, even as far as Mount Rose and Martis Peak.

The low, timbered mountains surround the meadow on all sides for a lovely panorama. Lookout Mountain is the double-backed peak that's visible behind the meadow. Sawtooth Ridge is located to the right and its timber stands run all the way down to Gooseneck Reservoir. The forested peak above the lake is Bald Mountain. Filmed stock footage of Joe washing up at the lake was shot here in June of 1962. It would be seen in season four's "The First Born". The production filmed thousands of feet of stock footage while on location that summer. More details about the locale are provided below.

The lush meadow is dotted with wildflowers, pines, sagebrush and forested knolls. Martis Creek gently winds through the meadow and has other tributaries that are nearby. Martis Valley Wildlife Refuge is adjacent to the meadow. It's 1,050 acres of lush wetlands that are protected for the sake of Mother Nature. The region is surrounded by low mountains and timbered hills. Martis Lake is on the right side of Route 267. A heavy abundance of corn lilies and sagebrush dot the landscape at an elevation of 6,000 feet.

Filming outdoors at Gooseneck Meadow began in June of 1962 for the fourth season opener "The First Born" and additionally the Gooseneck Reservoir for filmed stock shots of ride-throughs, creek-crossings and establishing shots that would be reused for nearly the entire series' run. The cast and crew returned five years later in September of 1967 for filming outdoor portions of "Desperate Passage". The tenth season marked the last time in the series' history the cast and crew would film at Gooseneck Meadow and Gooseneck Reservoir with filmed footage in "Salute To Yesterday" and "Kingdom Of Fear".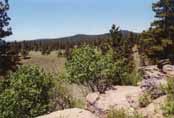 To see enlargements, please click on the photos!

Gooseneck Meadow Pages
1 | 2 | 3 | 4 | 5 | 6 | 7 | 8 | 9 | 10 Next »

Home | Locations | Opening Scenes | Forum | Cast Bios | Episode Guide | Links
Calendar | Bonanza Lyrics | Horse Bios | Gallery | eCards
Photographs and content copyright ©2003-2009 RM & Bonanza: Scenery of the Ponderosa, all rights reserved.