Nevada Beach
South Lake Tahoe, Nevada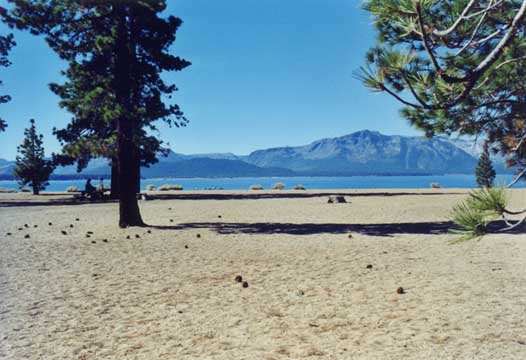 Beautiful Nevada Beach where Michael, Lorne, and Dan did the famous ride-up in June of 1965 for the seventh season of 'Bonanza'. The grasses are gone and it is all sand where they did the ride-up--but the lovely view and feel of freedom is still and will always be there.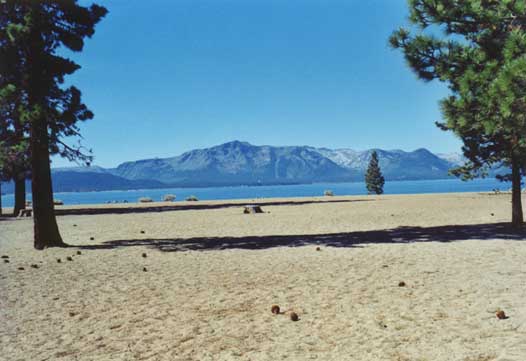 Nevada Beach with the lake and Mt. Tallac in the background in October 2002.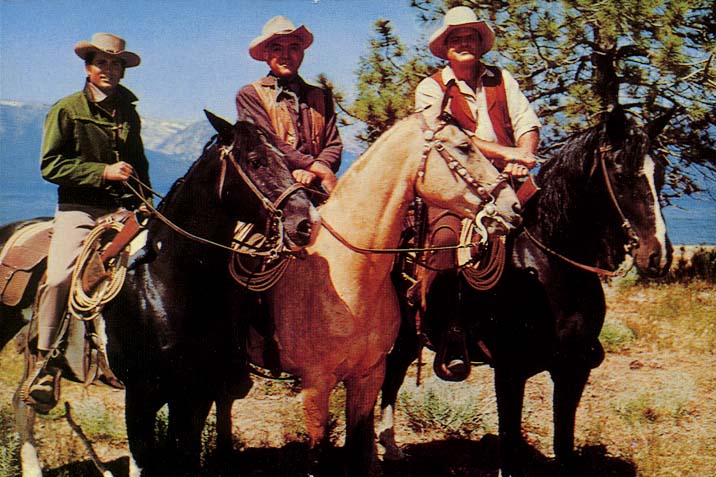 As the map burns you see from left to right; Michael Landon, Lorne Greene, and Dan Blocker on their mounts riding up to the cameras, on Nevada Beach, with Eagle Point behind Michael and Lorne, and the mammoth Mount Tallac with it's famous snow-cross etched in the face of the mountain, and behind Dan to the right, Meeks Bay. These newly filmed sequences were reused through the end of 'Bonanza's' eleventh season in 1970.
Directions from South Lake Tahoe: Driving from the California side of the lake, you drive past Stateline, than past the Kingsbury Grade, and after you pass a shopping center on the right, you will make a left turn on Elk's Point Road, that will lead you to the beach. There is a fee of $3 to enter and you will find parking adjacent to the beach.

Click Here for Big Meadow Photos!
Click Here for Carson Pass Photos!

Nevada Beach Page - 2


Home | Locations | Opening Scenes | Forum | Cast Bios | Episode Guide | Links
Calendar | Bonanza Lyrics | Horse Bios | Gallery | eCards
Copyright ©2000-2007 RM & Bonanza: Scenery of the
Ponderosa all rights reserved.