Sonora Pass
Stanislaus National Forest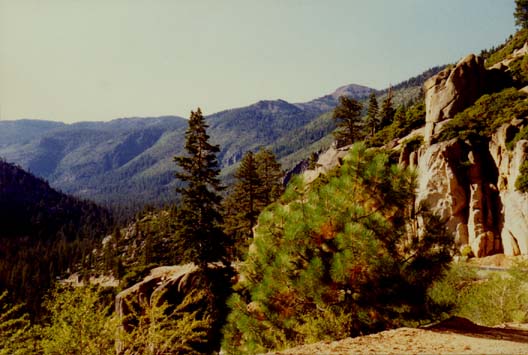 Que De Porka vista at the western entrance of Sonora Pass, elevation 7,232 feet above sea level.
To see enlargements, please click on the photos!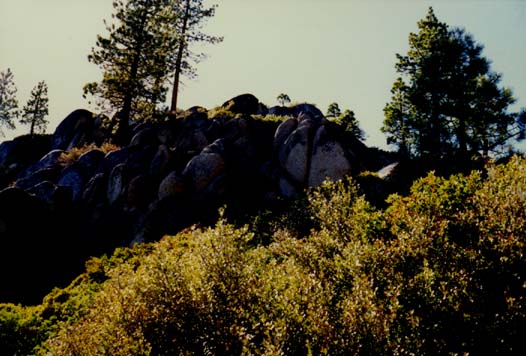 Other side of Que De Porka vista with granite rock formations
and parking area.
Sonora Pass rises almost 2 miles in the sky, at an elevation of 9,628 feet above sea level. This is about as high as anyone can drive at this height in the sky. It's like walking on air. The Sierra crest rises to 8,600 feet and the highest peaks to almost 12,000 feet tall. The county lines of Tuolumne and Mono intersect at the mountain summit at 9,628 feet. After the gentle and moderate drive from the town of Sonora into the forest, passing Donnell's Lake, Clark Fork River and Kennedy Meadows, some 60 miles up the highway, the entrance of the pass cautions a steep and windy grade ahead and house trailers are not advisable.

The pass grade is at 7% to 26%, the steepest grade in the Sierra Nevada and is 24 miles of continuous switchbacks, down into the high desert, only one hour south from Topaz Lake at the stateline of California and Nevada. The 108 route is popular among recreationists and tourists alike, and a favorite for bikers to drive over. However, if you get stuck on the road, don't expect them to stop for you, so be sure you have a cell phone. As you descend the 108 grade past Leavitt Meadows, you will come to the Sonora Junction at Three Flags Highway (Route 395), you either go north to Reno, Lake Tahoe, and Susanville or south to Bridgeport, Tioga Pass to Yosemite, or even all the way to Bishop, Lone Pine and Death Valley.

The only Bonanza episode that was filmed at Sonora Pass were segments of "Stallion" in August-September of 1972. The ridgetops at the pass were used in three different regions, so it could be filmed realistically and the narrow highway would have to be out of camera frame, since the roadway was the base for getting to all the mountain slopes, making this the most dangerous outdoor episode ever filmed. Other portions of this episode featured nearby locales as Brown's Meadow and further down in the foothills, the Red Hills, for other filmed shots, all edited in for the final cut.

Michael's stuntman Hal Burton did 95% of the doubling for his good friend and Ott, the black stallion did them both a favor, by carrying Joe to safety, in what would turn out to be the last Sierra footage ever filmed for the series in 1972. Location photography for the 1943 film "For Whom the Bell Tolls" was filmed at Que De Porka vista, Chipmunk Flat and the granite bed region (across from Blue Canyon), Relief Canyon (above Kennedy Meadows), and at Clark Fork River in the summer of 1942, a year before the film's release on July 14, 1943.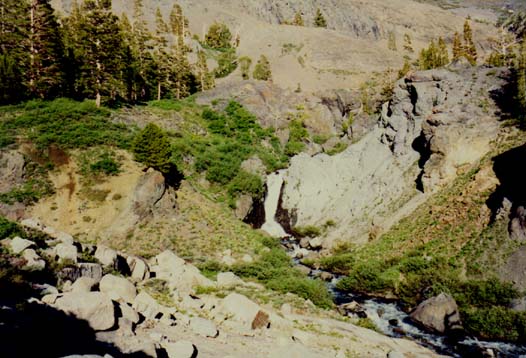 In this June photo, the outlet of Blue Canyon Creek pours into the waterfall cascading into Deadman Creek, at elevation 8,820 feet.
Seen in act four of "Stallion".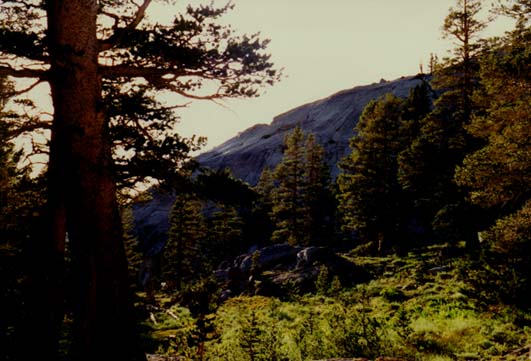 Granite beds seen in "Stallion".
---
DIRECTIONS: take I-5 north from Los Angeles over the Grapevine and before you get to Bakersfield, merge north on State Route 99. This drive will last a good 8 hours, so you might want to stop and get a bite to eat and a room in Sonora. When you get to the city of Modesto, exit on McHenry Avenue-Highway 108. Drive McHenry out of Modesto, then past Riverbank and Oakdale.

You will encroach and enter the Mother Lode foothills and drive 23 miles to Sonora. Once you get into town, and get past it, continue up the 108 corridor, the Sonora Pass Highway for a good 60 miles, and carefully drive up the pass and safely explore it from the roadway and use extreme caution this high and remote in the sky-- and always have a buddy and cell phone with you...and God.

Click on Sonora Pass Gallery #1

Click on Sonora Pass Gallery #2

Click Here for "Stallion" Captures

Click on Relief Canyon Gallery

Click on Relief Reservoir Gallery


Visit the Stanislaus National Forest Site!

Home | Locations | Opening Scenes | Forum | Cast Bios | Episode Guide | Links
Calendar | Bonanza Lyrics | Horse Bios | Gallery | eCards
Photographs and content copyright ©2000-2010 RM & Bonanza: Scenery of the Ponderosa, all rights reserved.