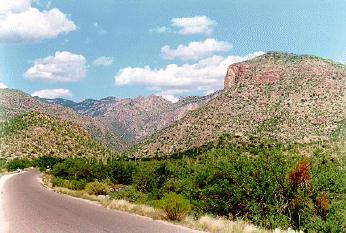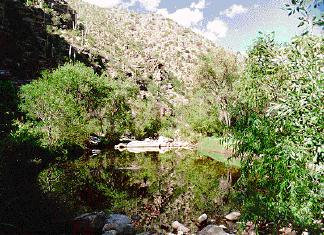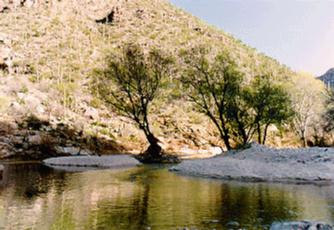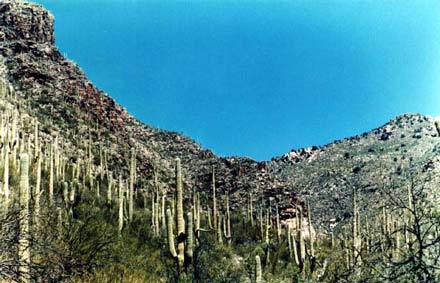 Photos are used permission of Stuart Glogoff and cannot
be reproduced without prior written permission.

Sabino Canyon was featured in the majority of fourteen's "The Hunter" and in one filmed cut in twelve's "The Desperado". It's a lush and lovely desert state park open to the public.

DIRECTIONS From Phoenix & Marana: Take the Ina Road Exit from I-10 and turn east onto Ina Road. Stay on this for a total of 15.5 miles until you reach a dead-end at Sabino Canyon Road. (you will pass major intersections at Thornydale, Cholla, and Oracle Roads. The road will become Skyline Road, then Skyline will split off to the left, but you will continue on the main road now called Sunrise. While driving on Sunrise, you will pass major intersections at Swan, Craycroft and Koll.) When you reach the dead-end at Sabino Canyon Road, turn left. The park will be on your right. The visitors center is open from 8:00 am to 4:30 pm, and can be reached at (520) 749-8700.


Visit Sabino Canyon: Our Desert Oasis -- homepage!

Visit Friends of Sabino Canyon


Home | Locations | Opening Scenes | Forum | Cast Bios | Episode Guide | Links
Calendar | Bonanza Lyrics | Horse Bios | Gallery | eCards
Content copyright ©2003-2004 RM & Bonanza: Scenery of the Ponderosa,
all rights reserved.