Cedar Lake
Big Bear Lake, California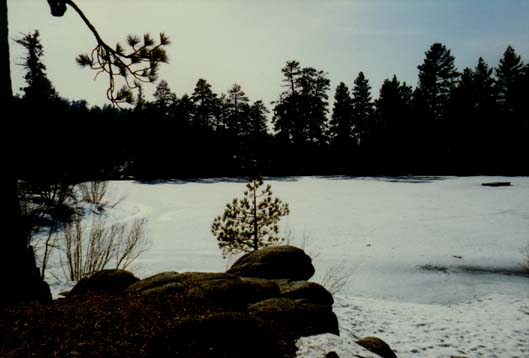 This still lake, seen in many episodes, is seen here, in spring thaw. "Winter Kill" was made here.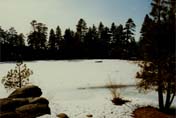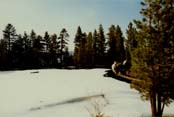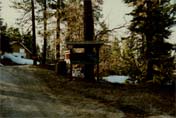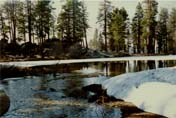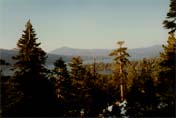 To see enlargements, please click on the photos!
Cedar Lake is located on the west shore of Big Bear Lake. Its elevation is 7,000 feet above sea level. It's private property in the San Bernadino National Forest, that is wholly owned by the First Congregational Church of Los Angeles. Numerous motion pictures and television series were filmed at the lake since 1936. Filmed cuts for selected episodes of "Bonanza" were shot at the lake for the main run of the series.

Filmed cuts of "Bonanza" episodes at Cedar Lake include "The Hanging Posse", "The Last Hunt", "The Debt", "The Other Son", "The Fence", "Thornton's Account", "Winter Kill" and "Second Sight".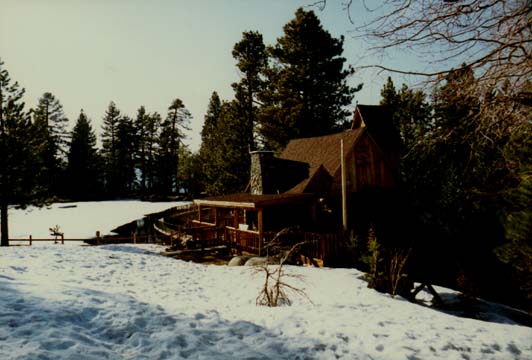 The cabin seen here was rebuilt in recent years, replacing the original one, like we see in "Thornton's Account".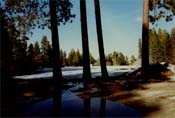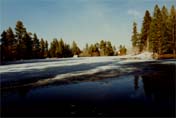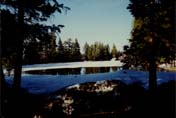 To see more enlargements, please click on the photos!
---
DIRECTIONS: (From Los Angeles) Take the 10 east to the Running Springs exit (junction of Hwy 30 and Hwy 330), and drive on Hwy 30 until you turn off onto Hwy 330, and proceed until you reach Hwy 18 and see the dam of the lake, and you are there.

(From the High Desert): Take Hwy 18 from Cajon Pass along this route, that will take you into the south side of Big Bear. Hwy 18 runs along the west side of the lake and Hwy 38 is on the east side of the lake. Stay on Hwy 38 and when you see Mill Creek Road (right side), please drive in slowly. The caretakers live on the property and it's about a 1/2 mile walk from the entrance. But first, some words of wisdom from the good folks who own the property:

Cedar Lake Camp is owned by the First Congregational Church of Los Angeles, located on 6th and Commonwealth. First Church has owned the camp since the 1950's. Visitors should contact the Church offices at (213-385-1341) ahead of their planned visit to make sure they can come visit before driving such a long distance.

Click on First Church's web site

Click on Cedar Lake web site

To see more photos, visit the Movie Making Locations Website!

Welcome to the Big Bear Lake Film Office!

Home | Locations | Opening Scenes | Forum | Cast Bios | Episode Guide | Links
Calendar | Bonanza Lyrics | Horse Bios | Gallery | eCards

Photographs and content copyright ©2000-2009 RM & Bonanza: Scenery of the Ponderosa, all rights reserved.