Tahoe Meadows
Toiyabe National Forest
Lake Tahoe, Nevada
Tahoe Meadows is situated just below Mount Rose in the Toiyabe National Forest. The high-altitude meadow is 8,700 feet above sea level. Its real name is Sheep Flat, but it's been given other names. The locals call it Mount Rose Meadows. On a map, it's name is Tahoe Meadows. Hwy 431 was cut through the north rim of the meadow to cross over the Mount Rose summit. In July of 1959, filmed riding shots of the cast and their stuntmen were shot on location. They would be used during the first two seasons.

The production returned to film segments for "Gabrielle" in June of 1961. A late spring storm had just moved out, so they could only shoot a minimum of footage. The other shots were filmed at nearby Mount Rose Summit. Filmed segments of the meadow were used for "The Other Son", "The Lonely Runner" and "All Ye His Saints". The film shoot was in June and July of 1965. The company had graded dirt roads cut through, so they could film farther back for these stories. "Showdown at Tahoe" was the final episode in the series to have filmed segments and stock footage shot at the meadow. Filming was in September of 1967. "Bonanza: The Return" had some filmed segments at the region in June 1993.
To see enlargements, please click on the photos!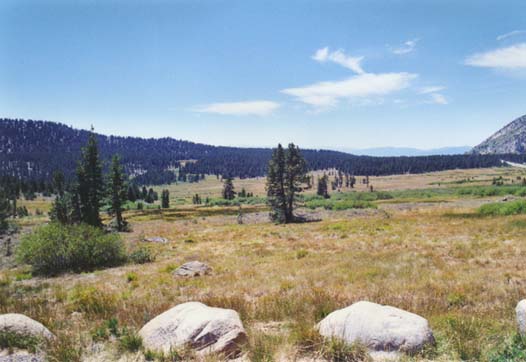 ---
DIRECTIONS: From South Lake Tahoe, Take Hwy 50 north all the way along the east shore until you reach Nevada State Route 28, and take this all the way until you reach Incline Village. To see the Mount Rose Summit/Tahoe Meadows area, stay on Lake Tahoe Blvd, the 28 and a few miles later turn right onto Hwy 431, which will take you to a famous overlook of the lake that was used in many opening shots of the series.

After you pass the entrance to the Diamond Peak Resort, you will climb the steep grade and Tahoe Meadows is off to your right side. There are cross-country trails that are here, so you can enter safely on foot. The Rose Summit area is also on the right side and you will recognize the terrain as it becomes more sparse with juniper pines and mountain firs. The summit area, at an elevation of 8,900 feet was featured in three's "Gabrielle" and seven's "The Other Son". There are also hiking trails and some service roads that access this area. Some scenes of "The Lonely Runner" were also filmed as you go down the highway, east.
Tahoe Meadows Page - 2


Home | Locations | Opening Scenes | Forum | Cast Bios | Episode Guide | Links
Calendar | Bonanza Lyrics | Horse Bios | Gallery | eCards
Copyright ©2000-2014 RM & Bonanza: Scenery of the
Ponderosa, all rights reserved.